he CASEIFICIO GIOVANNI INVERNIZZI has a long familiar tradition.
In 1931, Mrs. Teresa Invernizzi opened a small store to collect and resold milk and dairy products; then, in 1960, her sons decided to produce their own genuine products, opening a cheese factory and retail store in a small town: Pontirolo Nuovo, Via Mazzini, 40, near Bergamo in Lombardy region.
CASEIFICIO GIOVANNI INVERNIZZI SRL, as DOP cheese producer (controlled designation of origins quality assurance label, also known as PDO, Protected Designation of Origin), is member of several Italian Protection Consortium cheese, such as:
- Grana Padano cheese Consortium (BG507)*;
- Taleggio cheese Consortium (47)*;
- Quartirolo Lombardo cheese Consortium (15)*;
- Gorgonzola cheese Consortium (85)*.
*The traceability number, marked on the crust of our cheese, to identify our manufacturing site.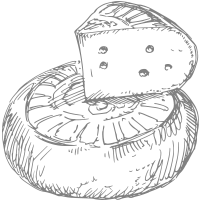 Soft and semi-soft cheeses
Taleggio, Quartirolo Lombardo, Gorgonzola, Crescenza, Bergamella piccola, Bergamella, Robiola, Primo Sale
Semi-fat hard cheeses:
 Grana Padano, Gran Lombardo
Soft and hard pasta filata cheeses (stretched-curd cheeses):
 Mozzarella blocks for pizza (Soffilat).
Conveyance of fresh product to distributors and cheese aging operators
Delivery products to restaurant, bars, pizzerias and bakeries with our company refrigerating vehicle;
Gastronomic composition packaging at Christmas time